Main content starts here, tab to start navigating
Hours & Location
26 Bond Street,
New York, NY 10012
(646) 329-5836
Monday to Friday 8am - 11pm
Saturday 9am - 11pm
Sunday 9am - 10pm

Subways
6 to Bleecker, BDFM to Broadway-Lafayette
Reservations
The Smile accepts reservations for breakfast, lunch and dinner. So that we may best accommodate all of our guests, incomplete parties or those more than fifteen minutes late will not be guaranteed immediate seating. We take a limited number of reservations for brunch and for parties of six or more guests. Walk-in's are always welcome. We can seat only complete parties on a first come, first served basis. For reservations, please call 646.329.5836 or reserve to the right.
Tuesday, December 24th, 2019 | 5PM onwards
4-course prix fixe | $70 per guest
Optional wine pairing | $38 per guest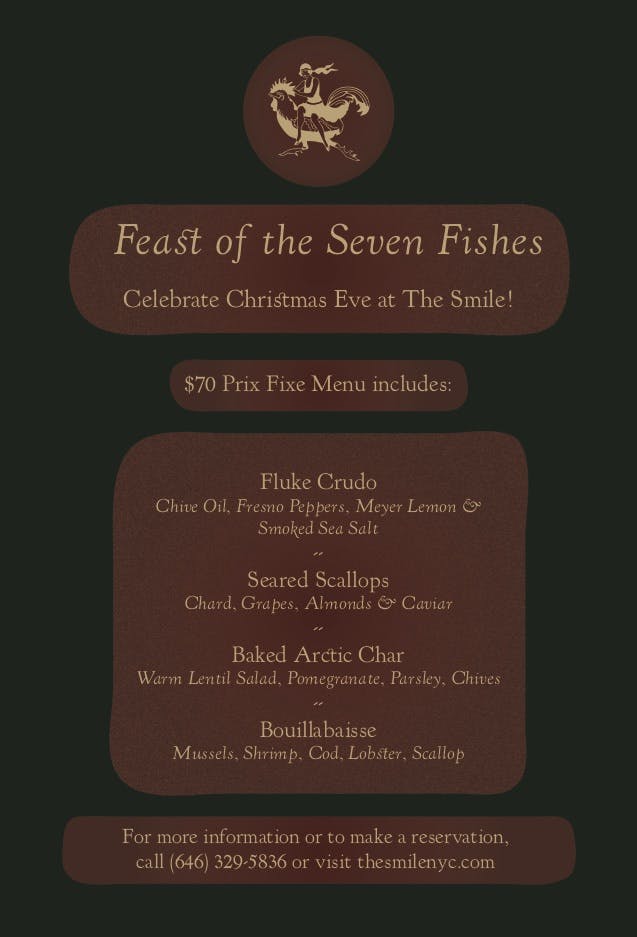 ** Please note, our regular dinner menu will not be available on this special day. Children 10 and under are 1/2 price. We will have options available for diners who do not eat fish (must be ordered in advance)**
*** No-shows or cancellations less than 2 days in advance
may be subject to a charge of $50 per person.
Download PDF
Breakfast
(Served 8am to 4:30pm)
STEEL CUT OATMEAL

coconut milk, berries, dried currants

$9

FRUIT SALAD

apples, strawberry, pear, banana, agave, pecans, mint

$9

add greek yogurt + $2

HOUSEMADE ALMOND BUTTER

multigrain toast, side of honey

$8

HOUSEMADE GRANOLA

berries & Greek yogurt or milk

$10

FOLDED EGG SANDWICH

ham, gruyere & caramelized onions on an English muffin

$12.50

substitute Black Seed sesame bagel + $2.50

SCRAMBLED EGGS

with sourdough toast & greens

$10

add cheese $2.50

egg whites $2.50

avocado $4

breakfast sausage $5

bacon $6

SMOKED SALMON & LEMON CAPER CREAM CHEESE

red onions on a toasted sesame Black Seed bagel

$16
Bakery
BANANA BUCKWHEAT BREAD

(vegan, gluten free)

$4.50

QUINOA BANANA MUFFIN

(vegan, gluten free)

$4.50

DARK CHOCOLATE & SEA SALT COOKIE

$4.50

PEANUT BUTTER & JELLY COOKIE

(vegan, gluten free)

$4.50

PASTRY BASKET

$15
Sides
SOURDOUGH TOAST | 3

GLUTEN FREE TOAST | 4

HALF GRAPEFRUIT with spiced cane sugar | 5

BREAKFAST SAUSAGE | 5

MAPLE THYME BACON | 7

POTATO CHIPS | 3

HOUSEMADE PICKLES | 3.50

SMALL SALAD | 4
Lunch
(Served 11am to 4:30pm)
Share Plates & Snacks
SMASHED AVOCADO TOAST

parsley, calabrian chili oil, radishes

$14

ADD EGG $3

RICOTTA TOAST

buffulo milk ricotta, marinated cherry tomatoes, multigrain

$12

MARINATED GOAT CHEESE

fried garlic, sage, pink peppercorn, toasted baguette

$12
Salads & Bowls
ADD-ONS: AVOCADO 4 HARISSA-HONEY ROASTED CHICKEN 5 ROASTED SALMON WITH ALEPPO 5.5
LITTLE GEM LETTUCE

green onion, dill, watermelon radish, lemon vinaigrette

$12

QUINOA BOWL

roasted carrots, parsnip, mushroom, poached egg, turmeric yogurt

$17

KALE & HONEYNUT SQUASH

goat cheese, honeynut squash, toasted pumpkin seeds, champagne vinaigrette

$13.50

SALMON POKE

scallion, soy, sesame, farro, avocado, cucumber

$16

MEDITERRANEAN COBB SALAD

bacon, egg, chicken, bleu cheese, chickpeas, artichoke

$16
Sandwiches
served with your choice of small Salad or Northfork Potato Chips & Housemade Pickles
HARISSA HONEY ROASTED CHICKEN BREAST

roasted red peppers, manchego & preserved lemon mayo on baguette

$16

BLACK FOREST HAM & GRUYERE

avocado, cornichons & grainy mustard on a potato bun

$15

MANOURI CHEESE & FIG

fig preserve, truffle oil, pear & arugula on sourdough

$14
Eggs
SCRAMBLED EGGS | 11

add cheese $2.50

egg whites $2.50

avocado $4

bacon $6

breakfast sausage $5

BAKED EGGS & AVOCADO spiced tomato sauce and manchego cheese | 16

SPRING VEGETABLES & QUINOA zucchini noodles, cucumber, poached egg, homemade ricotta, english pea | 17

EGG SANDWICH black forest ham, gruyere and caramelized onion on an English muffin | 12.50

{Substitute Black Seed Sesame Bagel} $2

STEAK & EGGS flank steak, sweet potato hash browns, fried eggs and chimichurri sauce | 18

SMASHED AVOCADO TOAST sprouts, parsley, calabrian chili oil, sea salt | 13.50

EGGS BENNY english muffin, black forest ham, Hollandaise | 16

add avocado $4

substitute smoked salmon $6
Plates & Sandwiches
HOUSEMADE GRANOLA dried fruit, berries and greek yogurt or milk | 10

STEEL CUT OATMEAL coconut milk, berries, dried currants | 9

THE SMILE SEMOLINA BELGIAN WAFFLE apple, housemade apple butter, whipped cream | 15

LITTLE GEM LETTUCE green onion, dill, watermelon radish, lemon vinaigrette | 12

add avocado 4

chicken 5

SMOKED SALMON & LEMON-CAPER CREAM CHEESE with red onions on toasted sesame Black Seed Bagel | 16

HARISSA Honey Roasted Chicken Breast Sandwich with roasted red pepper, manchego and preserved lemon-mayo on baguette | 16
Bakery
CHOCOLATE SCONE | 4.50

JAM SCONE | 4.50

QUINOA BANANA MUFFIN (v, gf) | 4

LEMON POPPYSEED MUFFIN | 4

BANANA BUCKWHEAT BREAD (v, gf) | 4

DARK CHOCOLATE & SEA SALT COOKIE | 4.50

PB&J COOKIE (v, gf) | 4.50
Brunch Cocktails
MIMOSA fresh squeezed orange juice, Prosecco | 13

BLOODY MARY house-infused pepper vodka, organic tomato juice, harissa, fresh horseradish, cracked pepper with housemade pickles | 13

SALTY DOG house-infused grapefruit vodka, fresh squeezed grapefruit juice, rimmed with sea salt | 13

MEZCAL PALOMA tequila, mezcal, Jarritos grapefruit soda, fresh grapefruit, lime | 13
Coffee & Drinks
SINGLE ORIGIN COFFEE (bottomless) | 3.50

ESPRESSO | 3.50

AMERICANO | 3.50

MACCHIATO/MEZZO | 3.75

CAPPUCCINO/CORTADO | 4

LATTE | 4.50

MOCHA | 5

COLD BREW | 3.50

FRESH SQUEEZED JUICE | 6/4

MARIAGE FRERES TEA french breakfast, earl grey, green, marco polo, vanilla | 3.50

HARNEY & SONS HERBAL TEA peppermint, chamomile | 2.50
Sides
TOAST | 3

GLUTEN FREE TOAST | 4

SEASONAL FRUIT SALAD (contains nuts) | 9

HALF GRAPEFRUIT | 5

SWEET POTATO HASH BROWNS | 6

SCHALLER & WEBER SAUSAGE | 5

MAPLE-THYME BACON | 7

SMOKED SALMON | 7.50

NORTHFORK POTATO CHIPS | 3

GREENS | 4

HOUSEMADE PICKLES | 3.50
For The Table
MARINATED GOAT CHEESE

fried garlic, sage, toasted baguette

$12

OCTOPUS A LA PLANCHA

potato-olive salad, black garlic puree

$17

MOROCCAN LAMB MEATBALLS

tomato, ras el hanout

$12

$18

MEZZE PLATE

carrot & feta dip, almond & greek yogurt dips, yellow split pea dips, crostini, crudités, seeds, fresh herbs

$16

RICOTTA TOAST

buffulo ricotta, marinated cherry tomatoes, toasted multigrain

$12
Salads
LITTLE GEM LETTUCE

radish, red wine vinaigrette

$12

KALE & HONEYNUT SQUASH

goat cheese, honeynut squash, toasted pumpkin seeds, champagne vinaigrette

$13.50

BEET & WAX BEANS

shaved fennel, baby spinach, spiced pecans, manouri cheese, walnut-truffle dressing

$14
Entrées
FETTUCCINE & LEMON CREAM

parsley, garlic parmesan breadcrumbs

$22

OLIVE OIL BAKED SALMON

black rice, cabbage, carrots, scallions, parsley

$27

ROASTED BALSAMIC HALF CHICKEN

roasted peewee potatoes, jus

$26

QUINOA BOWL

roasted carrots, parsnip, mushrooms, poached egg, lemon dressing

$21

BRAISED DATE SHORT RIB

roasted vegetables, celery root puree

$26
Sides
ROASTED POTATOES

garlic-rosemary aioli, aleppo

$6

ROASTED BRUSSELS SPROUTS

stout-pickled mustard seeds

$8

KOGINUT SQUASH

chermoula

$8
House Cocktails
FRENCH 76 vodka, prosecco, grenadine, lemon | 13

SMOKE ON THE WATER tequila, ginger, lemon, agave, mezcal float | 13

WHITE WIDOW mezcal, Suze, Dolin blanc vermouth | 13
Beer
PERONI | 7

COORS BANQUET | 6

WESTBROOK IPA | 8

OMMEGANG WITTE | 8

EVIL TWIN LOW LIFE PILSNER (16 oz.) | 8
Wines By The Glass
Sparkling
PROSECCO Bisol, "Jeio," Veneto, Italy NV | 12
White
VERNACCIA DI SAN GIMIGNANO Podere Canneta, Tuscany, Italy 2016 | 11

SAUVIGNON BLANC Stolpman, Santa Barbara, CA 2017 | 16

CHARDONNAY Talmard, "Macon Uchizy," Burgundy, France 2017 | 14
Red
PINOT NOIR Trousse-Chemise, Willamette Valley, OR 2015 | 16

BEAUJOLAIS Chateau Cambon, Burgundy, France 2017 | 14

CHIANTI Fattoria di Gratena, Tuscany, Italy 2015 | 13